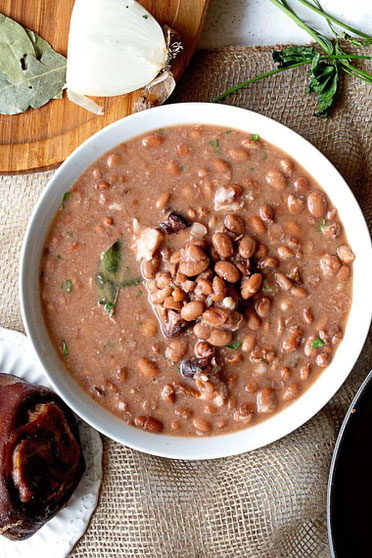 Ingredients:
1 (11 oz.) bag of pinto beans 
1 quart chicken stock
1 quart water
1 onion
2 Tablespoons minced garlic
2 smoked ham hocks
1 tsp black pepper
2 tsp chili powder
salt to taste
green chilies (optional)
Directions:
(I personally use an Instant Pot to make beans, but if you don't have a pressure cooker, these can be made on the stove top or in a slow cooker. They'll just take quite a bit longer. You can also soak your pinto beans the night before to shorten cooking times.)
Add all ingredients to pot and pressure cook for 1 hour.  I like to release the pressure after 1 hour, stir, and pressure cook for another 30 minutes to an hour. 
Top with chopped onions and green chilies, if desired. 
Enjoy!