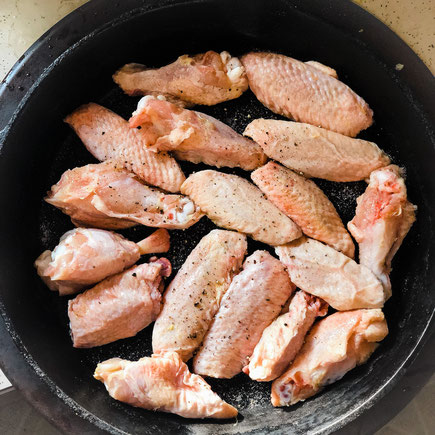 Ingredients:
1-2 lbs. of wings (cut up or whole)
2 Tablespoons of olive or avocado oil
1 teaspoon of salt
pepper to taste
for Sauce:
2 Tablespoons soy sauce or coconut aminos
1/2 cup honey
1/4 cup of water
1 teaspoon tapioca starch (or thickener of choice)
Directions:
Preheat oven to 400 degrees
Place cut up wings in a bowl.  
Drizzle with oil, salt and pepper, and toss.  
Arrange wings in a single layer in a cast iron skillet.
Cook on 400 for about 20 minutes, turning once at the 10 minute mark.
If after 20 minutes your wings are not brown and crispy, turn your oven to broil and broil wings for about 2-3 minutes until skin is crispy. 
While wings are cooking, place all the sauce ingredients, except tapioca starch, in a sauce pan.
Heat on low heat until bubbly, stirring continuously. 
Add in tapioca starch with a whisk and whisk until blended.
Cook sauce over low heat until thickened.
Sauce should coat the back of a spoon.
Once sauce thickens and wings are crispy, remove wings from oven and toss in sauce. 
Voila!  Awesome wings!
These are so delicious and simple.  They have become one of my go-to weekly meals.  Serve with a side of baked Brussel sprouts or steamed veggies.